【The Sudan Rhino Bus Exploration】Room Plan
Book a room during the month of your birthday and no need to pay 10% service fee for this deal.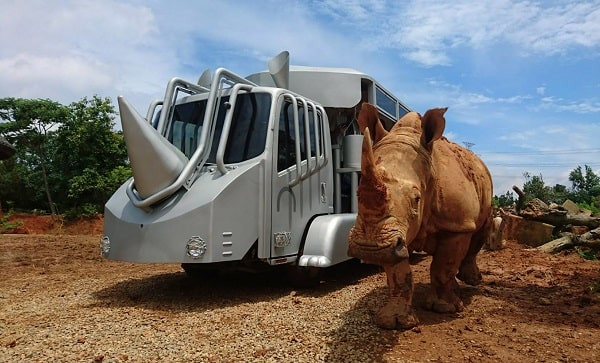 In the remote Kenyan prairie in Africa,
The Northern White Rhinoceros has walked into a path of extinction.
Each day, surrounded by numerous armed guards, the old Sudan lies on its stomach, watching as his final moments in life drift by.Sudan, his daughter and granddaughter, are the world's remaining three Northern White Rhinoceroses. At age 42, due to poor health, he was euthanized lately. This declares the extinction of the Northern White Rhinoceros.

According to data from World Wide Fund for Nature, once there used to be more than 2,000 Northern White Rhinoceroses on Earth during the 1960s. Due to superstitions on the rhino horn's healing effect and the perverted mentality to show off one's wealth, frenzy poaching has turned them into endangered species. The price of rhino horn in black market used to be as high as gold, luring poachers frequently target rhinos.

The crisis of endangered species has never been far away from us.
In the near future, we may be only able to tell our children through stories that a beautiful creature such as the White Rhinoceros once existed on Earth.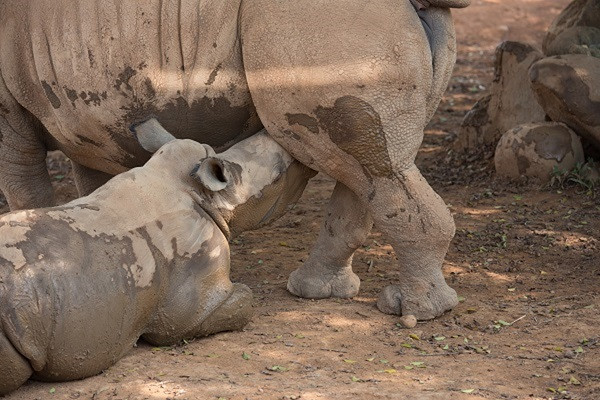 The largest white rhinoceros restoration center in Asia the Leofoo Wildlife Park
In 2015, Chuangfoo Foundation paid its first visit to South Africa with staff from Leofoo Village Wildlife Park in an attempt to learn about the current status of wildlife animal rescue and care in the region. Together with the founder of Care for Wild, an orphanage taking care of rhinos in South Africa, a Letter of Intent was signed, marking the beginning of Chuangfoo Foundation and Leofoo Village's joint effort to protect the white rhinoceroses in the region.
Ever since Leofoo Village introduced the Southern Rhinoceros, baby rhinos have been born every year or two. So far, there have been 19 successfully bred rhinoceroses.

In order to allow the humanrestored white rhinoceroses become accustomed to nature, the animal conservationist at Leofoo researched and designed a bus called "Sudan Rhino Bus". The bus's various special design features are tailored to white rhinos' natural habits. Through luring and training rhinos to attack the bus, it helps recover rhinos' various natural instincts and capabilities.

Let's begin the journey on "World Rhinoceros Day" and protect the hope for rhino's future.
We invite you to join our journey on our "Sudan" rhino bus in 2018 and work together to build a better environment for rhinoceroses. Contribute to the conservation effort for animals in the region and record, through a different measure, things that you see here, passing down to all people that care about the environment and animals. Let's put more attention to the environmental sustainability on Earth and fight against the sale of illegal wildlife animal products.

10% of the revenue from this plan will be donated to the Chuangfoo Foundation for restoring and caring for White Rhinoceroses. Meanwhile, we offer you a free upgrade to Congo Greenery Room in appreciation of your support.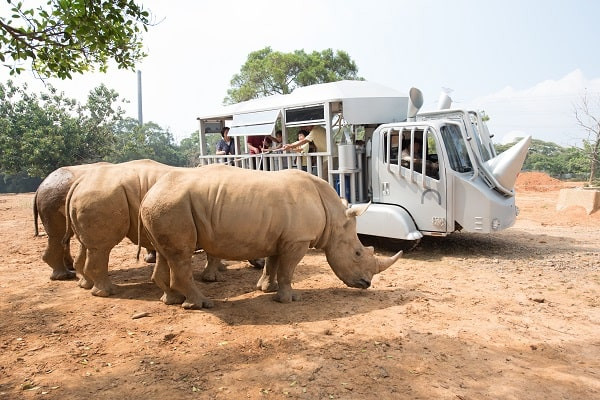 【The Sudan Rhino Bus Exploration Session】
1. Two sessions each day, one hour per each session. Sessions start at 11:10 and 14:30, including white rhino conservation course and a closeup encounter with rhinos.
2. This event gives priority to guests who have purchased the room plan, but is also available for visitor signups onsite. Minimum of 3 people is required for the session to take place. Maximum 10 guests allowed. Exploration special price $1,999/ person. The session will take guests to the White Rhinoceros Habitat at the Leofoo Village Wildlife Park.
3. Stage 1 "Getting to know White Rhinoceroses": Our conservation staff members on bus will give an informative and educative lecture on the ecology as the bus takes guests to the White Rhinoceros Habitat. The lecture will touch on:
(1) The concept of animal conservation
(2) The crisis that White Rhinoceroses face and the conservation techniques in South Africa
(3) The habits of White Rhinoceroses
(4) The design concepts behind the "Sudan Rhino Bus" and briefing on the experience session procedure : As the lecture session goes along, the lecturer will show guests rhino horns and skins (subject to course conditions), and guests may feel free to ask the lecturer any questions.
4. Stage 2 "Sudan Rhino Bus" closeup encounter: As the bus slowly approaches the herd of White Rhinoceroses, not only the guests have a chance to observe these creatures from a close distance, the guests are also invited to feel what it's like to be working as a conservation staff member: they are allowed to brush the rhinos' backs to establish trust between human and animals. As conservation staff member informs the guest the facts on rhinos, the guests can have a deeper understanding about White Rhinoceroses' living habits and get a better sense of the importance of nature conservation.
5. "Sudan Rhino Bus Exploration" certificate: Before guests leave, they will get a training certificate and a group photo, symbolizing they have become a part of the animal conservation effort, and will continue to strive for protecting the Earth's ecology.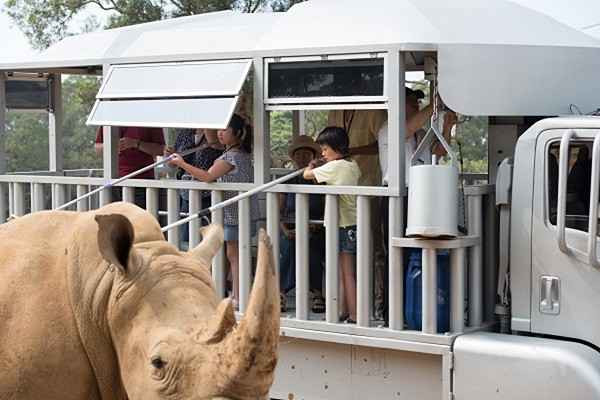 【Attention】
Since this activity is a closeup encounter with animals, for animal protection concerns, we require all guests to wear colors close to the land and nature, such as black, white, grey, and coffee colors. Avoid wearing too bright and colorful colors to disturb the animals. Also avoid wearing perfumes or makeup that has strong scent.

Highly recommended by bloggers!
---
2021 Rhino Exploration Holiday" Room Plan  NT$11,800+10%
Click to book
Promotional period:2021/01/01- 2021/03/31
Room type: Congo Sky Room
Length of stay: 2 days 1 night
Number of guests: 2
Plan description:
●Energetic breakfast for 2 guests
●Savory dinner for 2 guests
●2 entry tickets to Leofoo Village Theme Park (unlimited entries for 2 days)
●2 entries to the "Sudan Rhino Bus Exploration" activity
●1 Rhino Bus stuffed toy (or equivalent rhino product)
*Rhino Bus stuffed toy or product are subject to availability. We regret that guests cannot choose the type of toy they hoped for.
●Free select activities for room guests.

Attention:
1. Due to safety concerns, guests who sign up for Rhino Bus must be over the age of 3.
2. In case of rain and safety concerns, the animal experience activity may be cancelled depending on ground conditions. Guests who have already signed up for the plan may notify the reservation team in advance to change the dates of stay, or may ask for a flexible change in terms of plan content onsite. For more details, contact the event team.
3. During the overlapped period of Leofoo Village Park and Leofoo Water Park, the tickets will be upgraded to joint tickets of Village Park and Water Park.4. Due to health and environmental issues, Leofoo Resort Guanshi will not provide any raincoat. Guests who participate in animal experiences need to bring your own raincoats or buy it in Cape Town shop.Sorry for the inconvenience.
Rule of additional price:
(1)Extra fees for extra person (The Congo Sky Room is only available to 4 people)
Payment will be required counted from the third person.
For age under 3: for free (excluding activities and sets)
For age over of 3(inclusive): $2,600 NTD + 10% service fees (including 1 breakfast+ 1 dinner+ 1 entry ticket to Leofoo Village (unlimited entries for 2 days) + 1 ticket to take the Sudan Rhino Bus)

(2)Extra fees for weekends:
$2,000 NTD +10% for weekend stays (per room per day);
$4,000 NTD +10% for big holidays (per room per day).
For definitions on weekdays and weekends, please refer to the Leofoo Resort Guanshi website.

(3)Extra fees for room upgrade:
$2,000 NTD +10% for room upgrade to Congo Greenery Room(accommodates 4 people max.)
$4,000 NTD +10% for room upgrade to Kenya Sky Room (accommodates 6 people max.)
$6,000 NTD +10% for room upgrade to Kenya Greenery Room (accommodates 6 people max.)
(4)Extra fees for extend stay: $6,500 NTD +10% per room per day
10% off of preferences for Restaurant are available during the stay (with room card holder)
If is on holiday, extra fees are still required in accordance with the regulations of extra prices on holidays. 
Direct line for activity booking: 03-547-5365 #2951、2952
Reservations: 02-6616-6521
Chuangfoo Foundation: http://www.chuangfoo.org