Access to meerkat family room plan
The only "interactive experience with meerkat" in Taiwan!
Here are the meerkat family~ the "desert little elves" who like hugs

Recall Timon from the Disney's animation, The Lion King, or the little creature with watery big eyes in Ang Lee's film, Life of Pi? These creatures are known as the cute "meerkats".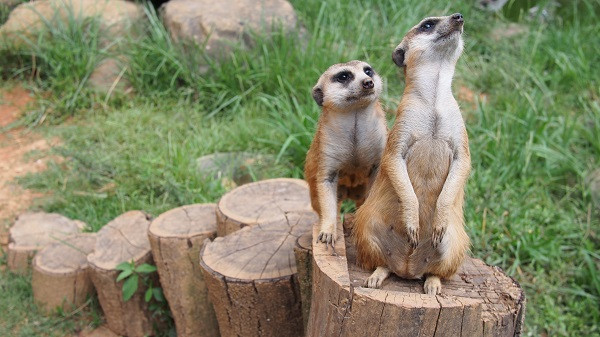 Meerkats are social animals. Since the original habitat where they came from, South Africa, has a desert climate, with great temperature difference between day and night, the whole family of meerkats would gather around, hug each other, and comb each other's hairs every day when they get up or go to sleep inside the tunnel at dusk. All family members like to encourage each other, take care of and protect each other. It would be no surprise that they are called the animals in the world who like hugs the most.

Here at Leofoo Resort Guanshi, we have designed an ecological demonstration field within the lemur island according to habits of meerkats. With a combination of educational purpose and fun, we have designed an "interactive experience with meerkats", the first of its kind in Taiwan. Room guests can see how meerkats feed themselves through virtual reality program; in addition, guests can join the meerkat weighing training to get an intimate look at them. The entire program is designed with a simulation of what conservationists do, allowing guests to have more lively and varied approaches to observing animals. At the main entrance there is even a "meerkat" standing that looks so real, welcoming guests. Certainly a good spot to take photos!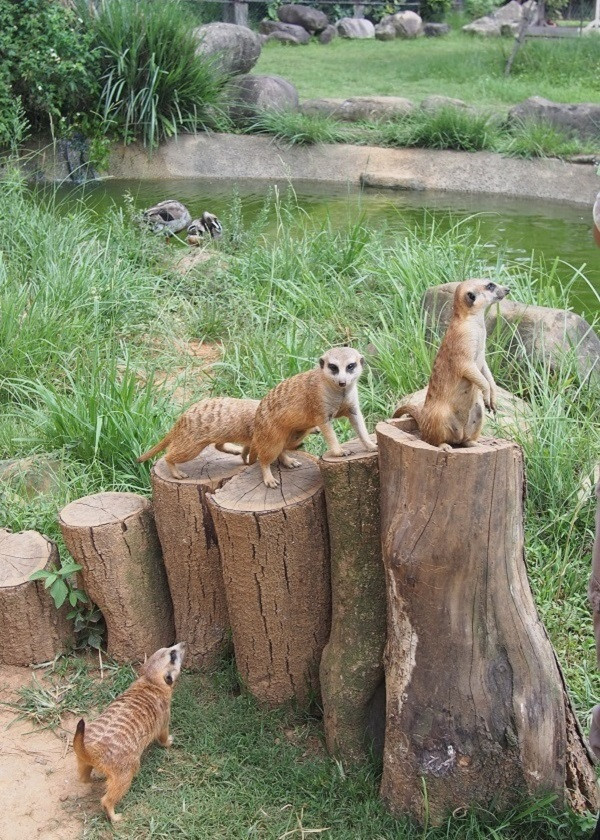 Some meerkats would stand at high grounds and act as sentinels while other meerkats forage for food or play around. Once predators are spotted, the sentinels would call out alarmingly, prompting other family members to scurry back to their burrows for safety. As danger passes, the sentinel meerkat would be the first one to come out of the burrow to take a look at the whereabouts of the predator. Once it makes sure the threat is gone, the sentinel will then stop calling, allowing other members to leave their burrows.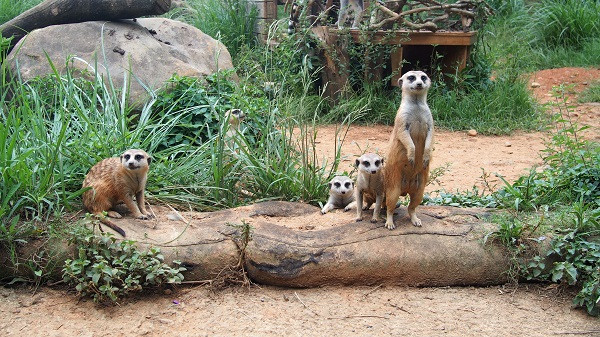 Facts about meerkat:
◎Scientific name: Suricata suricatta
◎English name: Meerkat
◎Distribution: Kalahari Desert, South Africa
◎Characteristics:
Smallsized nocturnal animals with black patches around the eyes, which act like sunglasses, allowing meerkats to see clearly under the bright sun as well as looking directly at the sun. Their tails are thin and long, allowing them to stand on their feet and maintain balance when they run fast. The tail end is black. The black small, crescentshaped ears can be closed when meerkats dig burrows so that dirt do not get into their ears.
◎Body size:
On average, a male meerkat weighs about 731 grams while a female weighs 720 grams. The body length is between 25 to 35 cm, and tail length between 17 to 25 cm.
◎Food:
They mostly feed on insects. Scorpions are their favorite, but meerkats also eat crickets, cockroaches, lizards, snakes, spiders, plants, eggs, and small mammals. Since they do not store fats inside their bodies, they must actively hunt for food every day in order to maintain their energy.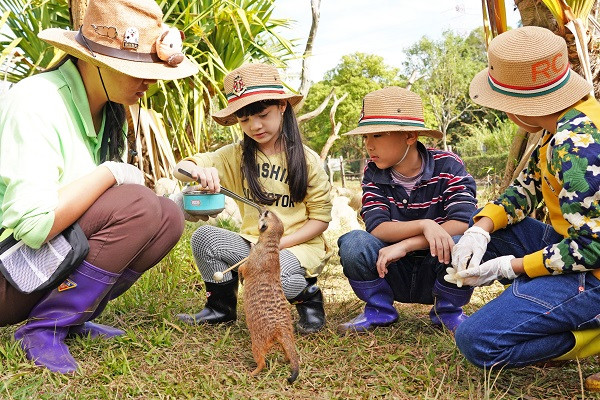 【Meerkat observation experience tour】
1. Three sessions daily, 40 minutes per session. Session hours: 10:30,13:30 and 16:00. Includes meerkat conservation knowledge course and closeup observation experience.
2. Room guests have the priority to join this event. 6 guests maximum per session. Please book in advance by calling the activities team at 03-547-5365 #2952. Guests onsite may sign up for the session with available spots. Maximum 6 guests per session. Price per person: $899. For additional purchases onsite, refer to the daily announcement by the activities team.
3. Experience tour location: Lemur Island.
 
【Course description】
(1) In stage 1, guests will be introduced to the "meerkat conservation knowledge" and animal characteristics. Guests will know what meerkats love to eat the most, and why they often stand guard as sentinels. Come and learn about the cute little desert elves.
(2) Next, guests will be led into the home of meerkats. Guests will need to change for rain boots and wear face masks while paying attention to the rules of entering animal ground. As soon as guests enter the meerkat habitat, our professional guides will lecture the guests on the environment and explain the feeding behaviors of meerkats. Then, guests will get a closeup look at meerkats' weighing training on wooden scales, and help make the "food balls" that enhance meerkats' behavior diversification, and then observe how these creatures feed.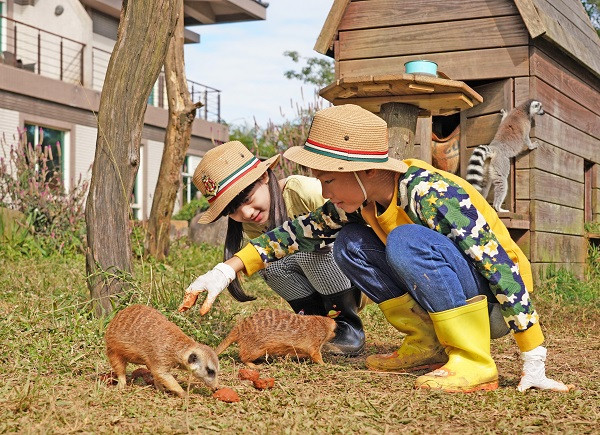 【Attention】
1. We advise that guests who join this deal shall be at least six years old. Please follow safety instructions at all times. The experience content may vary according to actual onsite situations. We regret that guests cannot designate the experience content they would like to have.
2. To access Lemur Island guests will need to cross the water bridge. Rain boots (single size) will be provided on spot. We advise guests to wear socks.
3. Since in this activity guests will have a closeup contact with meerkats, we advise guests to wear shirts and pants with colors close to the land, such as black, white, grey, and coffee colors; avoid wearing too bright and colorful clothes or the animals may be disturbed. In addition, avoid wearing perfume or makeup with strong scent.
4. Due to health and environmental issues, Leofoo Resort Guanshi will not provide any raincoat.
Guests who participate in animal experiences need to bring your own raincoats or buy it in Cape Town shop.
Sorry for the inconvenience.
 
---
2021 Accommodation deal for 2 guests plus access to meerkat family
NT$11,000+10% Click to book
Promotional period:2021/1/1~2021/3/31
Book a room before June 30th and no need to pay 10% service fee for this deal.
Room type: Congo Sky Room
Length of stay: 2 Days 1 Night
Guests: 2
Deal description:
●Breakfasts for 2 guests
●Dinner for 2 guests
●2 Leofoo Village Theme Park entry tickets (unlimited entries for two days)
●Meerkat interactive experience for 2 guests
●DIY meerkat handmade clocks (2 sets)
●Free select activities for room guests
Attention:
1. For safety concerns, we advise that guests who join this deal shall be at least six years old.
2. In case of rain and safety concerns, the animal experience activity may be cancelled depending on ground conditions. Guests who have already signed up for the plan may notify the reservation team in advance to change the dates of stay, or may ask for a flexible change in terms of plan content onsite. For more details, contact the event team.
3. During the overlapped period of Leofoo Village Park and Leofoo Water Park, the tickets will be upgraded to joint tickets of Village Park and Water Park.
Rule of additional price:
(1)Extra fees for extra person (The Congo Sky Room is only available to 4 people)
Payment will be required counted from the third person.
For age over of 6(inclusive): $2,400 NTD + 10% service fees (including 1 breakfast + 1 dinner + 1 Leofoo Village Theme Park entry ticket (unlimited entries for two days) + meerkat interactive experience for one guest + 1 set of DIY meerkat handmade clock)

(2)Extra fees for weekends:
$2,000 NTD +10% for weekend stays (per room per day);
$4,000 NTD +10% for big holidays (per room per day).
For definitions on weekdays and weekends, please refer to the Leofoo Resort Guanshi website.

(3)Extra fees for room upgrade:
$2,000 NTD +10% for room upgrade to Congo Greenery Room(accommodates 4 people max.)
$4,000 NTD +10% for room upgrade to Kenya Sky Room (accommodates 6 people max.)
$6,000 NTD +10% for room upgrade to Kenya Greenery Room (accommodates 6 people max.)

(4)Extra fees for extend stay: $6,500 NTD +10% per room per day
10% off of preferences for Restaurant are available during the stay (with room card holder)
If is on holiday, extra fees are still required in accordance with the regulations of extra prices on holidays. 
Activity booking:03-547-5365 #2951、 2952
Reservation (room):02-6616-6521