Free of 10% Service Fees for Birthday in the Month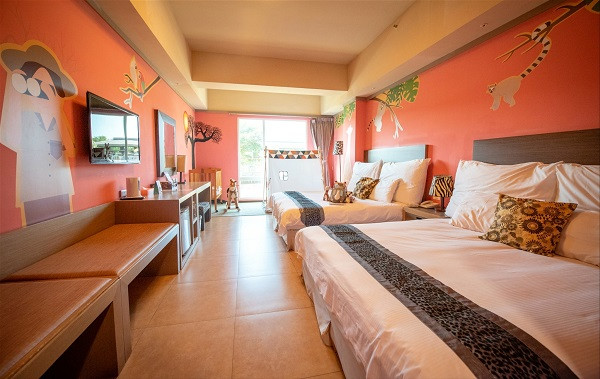 Special Design of Themed Room!
Bring Joy and Fun to Your Children In the Room!
Many parents have a dream to build a fantasy kingdom no one has ever seen for their children. Now, that dream can be fulfilled in Leofoo Resort Guanshi! The Children's Wonder room is now available in limited time! Get the chance and accommodate in the lovely and charming kingdom of animal exploration!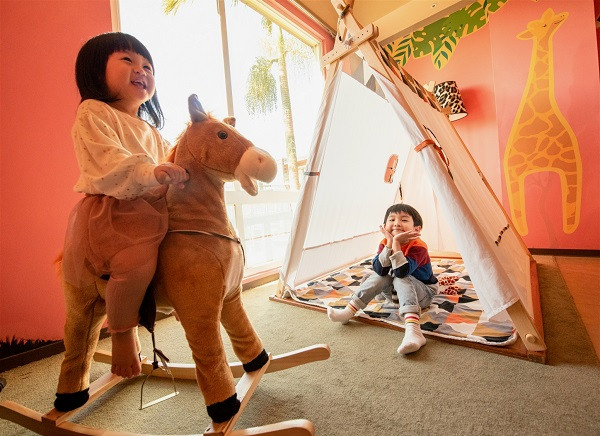 Only One in the Hall – Animal Exploration Kingdom
Suitable for families with younger children, the Children's Wonder room kindly creates a space for animal exploration. Children can live with those animal friends in Africa in a fantasy kingdom built just for them.
In addition to the companion of animals in Leofoo Resort Guanshi, there are various kinds of toys waiting for the children!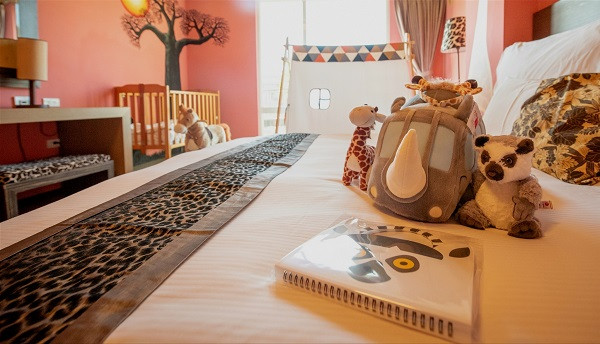 Notes: the tent, bedspreads, and wooden horse are properties belong to the Hall and shall not be taken away. The gifts included animal party pack (goods displayed on the bed) can be taken.

Get Animal Party Pack and AnimalThemed Afternoon Tea with Accommodation
Children's favorite plush doll, tent, and wooden horse are provided in the room, and the wall is also applied with themed wallpapers of animal exploration specially designed for children. The afternoon tea and cake with animal patterns are also provided. You can enjoy the food, entertainment, and gifts in this room with the whole family in good time!

Leofoo's First Time of Project Selection
Leofoo Resort Guanshi firstly provides 1-in-2 options of dinner or Zoo Safari. Select the most favored project with your family!
(The projects are applied to each room; people in the same room are under the same project.)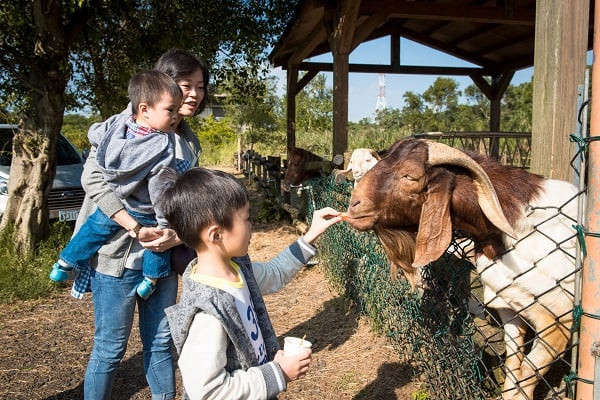 Tickets of Unlimited Entries of Leofoo Village Theme Park
Guests who purchase projects with Leofoo Village Ticket can enjoy unlimited entries of the Park for two days during accommodation!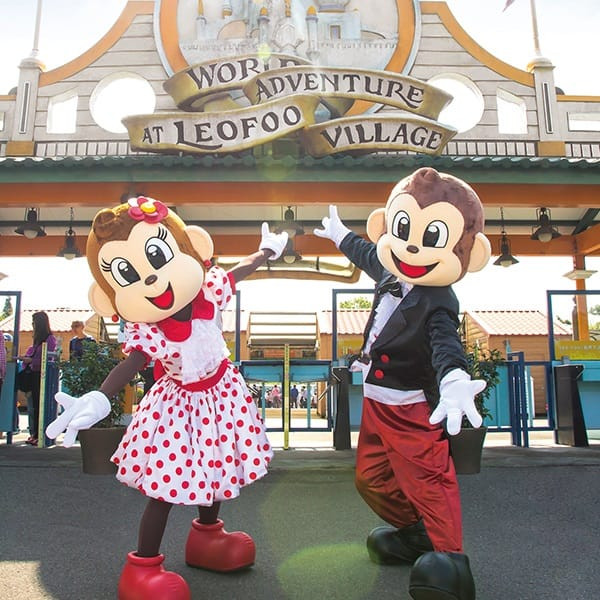 2021 Children's Wonder room Accommodation Project 
NT$11,600 +10%

Period: 2021/1/1~2021/3/31
Accommodation Category: Children's Wonder room (1 available each day)
Time: 1 Day
People: 3
Contents:
●3 sets of breakfast
●3 Leofoo Village Park tickets(Unlimited Entries for 2 Days)
●1 in 2 options of 3 sets of dinner or 3 times of Zoo Safari (The projects are applied to each room; people in the same room are under the same project.)
●1 set of Animal Party Pack
●1 Set of Animalthemed Afternoon Tea
●Free Activities for the Customers

Notes:
1. Warm Caution: the room is a green land room that is facing the courtyard. Part views outside the window are covered by the Observation deck in the courtyard, and so the animals cannot approach. If you wish to observe the animals in closer distance, it is suggested to move to the outdoor Observation deck or reserve other accommodation project.
2. During the overlapped period of Leofoo Village Park and Leofoo Water Park, the tickets will be upgraded to joint tickets of Village Park and Water Park.
3. The tent, bedspreads, and wooden horse are properties belong to the Hall and shall not be taken away. The gifts included animal party pack (goods displayed on the bed) can be taken.
4. Due to health and environmental issues, Leofoo Resort Guanshi will not provide any raincoat. Guests who participate in animal experiences need to bring your own raincoats or buy it in Cape Town shop.Sorry for the inconvenience.

Rule of additional price:
(1)Extra fees for extra person (The Congo Sky Room is only available to 4 people)
Payment will be required counted from the fourth person.
For age under 3: for free (excluding activities and sets)
For age over of 3(inclusive): $2,200 NTD + 10% service fees (including breakfast + 1 in 3 options of dinner, Leofoo Village Park tickets, or Zoo Safari)

(2)Extra fees for weekends:
$2,000 NTD +10% for weekend stays (per room per day);
$4,000 NTD +10% for big holidays (per room per day).
For definitions on weekdays and weekends, please refer to the Leofoo Resort Guanshi website.

(3)Extra fees for extend stay: $6,500 NTD +10% per room per day
10% off of preferences for Restaurant are available during the stay (with room card holder)
If is on holiday, extra fees are still required in accordance with the regulations of extra prices on holidays. 

Direct line for activity booking: 03-547-5365 #2951、2952
Reservations: 02-6616-6521